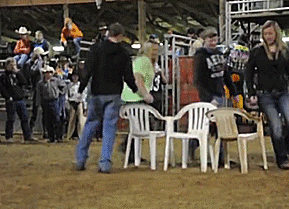 Remember playing the game Musical Chairs? Everyone had to walk in a circle around a collection of empty chairs, with always one less chair than the number of people circling anxiously around them as long as the music kept playing, never knowing when the music would stop. When it did stop you would have to scurry to find a seat, hoping that you wouldn't be the one left standing. The chairs weren't musical at all, they just stared at you silently, daring you to sit on one of them or leave the game. There was an odd cruelty of being the last one still circling, with nowhere to land.
Just how often did you win THAT game?
Most of us didn't beat our opponents every time. And then, that's what our friends became: opponents in a game of scarcity, as there was always one seat too few. And then we brought that game to the workplace, where it often became harder to make friends because Musical Chairs might be the bigger game we are forced to play. A game simpler than chess, but more primal in need: GET THAT LAST CHAIR AND YOU WIN.
But must life and work really be like that? Here are  different ways to look at this from abundance, rather than scarcity:
Your education was probably crafted so that you would fit clearly into a particular kind of chair. If there are none of those types of chairs left where one game is playing, perhaps there's another elsewhere. Will you have to move, or learn to work remotely to find a chair? How much time will you have to spend searching for a chair? More importantly, what if you decided not to play the game that way?
What about becoming the source of the music, or the maker of chairs, or the one who changes the rules of the game?
What if the game was to share the chairs, and the action of the game was to help one another into different chairs so that everyone had the chance to try out as many chairs as possible? That would be an entirely different game!
It can be your decision to play Musical Chairs or not. It can be your decision to play, yet work on your advantages to try to win. It can be your decision to ask others to play with you, yet change the rules of the game to something where all win, the music doesn't stop, no one leaves in despair and everyone has had an even better experience for having played.
You can decide, and the music doesn't have to end with you bereft of a seat in the game.